An in depth comparison of modular play couches
We get it, as a parent you are looking for the best bang for your buck with. With so many play couches in the market, it's important to do your research before you purchase. We are frequently asked what sets us apart from our competitors. We don't consider ourselves a "nugget alternative" or a "nugget dupe", as we truly believe that The Joey has so many wonderful attributes that outshine other play couches in the market.... and we think a few of our VIP members would agree ;)
---
The Joey is $299 CAD + Tax with FREE shipping Canada wide. Depending on the location shipping is not always included with other play couches in the market so you may see pricing upwards of $377 or more. It's important to note that our price point also coincides with our high quality product. Why pay more for less?
---
---
The Joey is made out of a high-density, open-cell polyurethane foam. This means the product is safe (lightweight) and will last a long time, so your money is well spent.
The covers are made out of brushed microsuede. Why microsuede?
The Joey is both stain-resistant and machine-washable unlike other play couch alternatives

Shrink-resistant

Pet-friendly

Breathable

Made with brushed suede which feels soft against the skin
You might be asking yourself, "Uh, what's brushed suede?!" "Brushing" is a manufacturing process that makes suede extra, extra soft.
Some other play couches prefer to use vinyl, which is very easy to clean. That aside, some consumers dislike vinyl for its synthetic feel and look.
The Joey is manufactured in China with an ethical and trusted manufacturer. We are proud to partner with a company that shares our values to commit to ethical production and safe work conditions. To continue to support our mission of being handmade in Canada, we will use resources to eventually move production to Canada.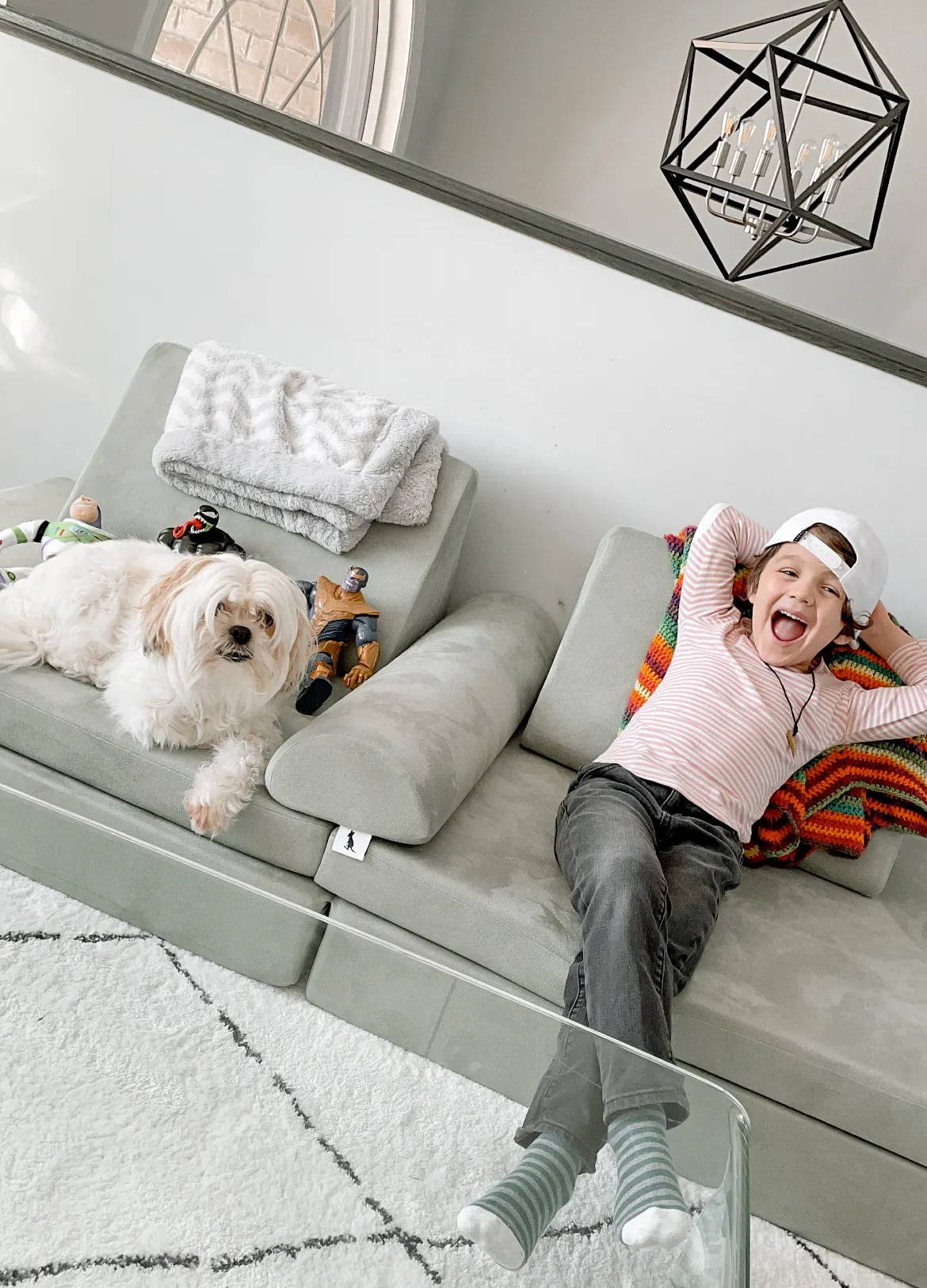 ---
The Joey couch is made up of 7 total pieces or 5 major parts :
The Base

The Support

Half-Moon Arm Rest Pillow

2 x Wedges

Waterproof Liner

Single-Brushed Microsuede Suede Outer Cover
The Joey comes with the addition of a Half-moon Arm Rest Pillow, and a waterproof liner that is not seen or included with the Nugget or other alternatives.
Our pillow packs & add-ons:

For truly endless play, we created various pillow pack sets that allow for unlimited build combinations that you will not find with other play couch providers or dupes.
---
The best part about the play couch is your ability to jump, bounce and play all day long without compromising it's quality! When creating The Joey, we wanted to strike the perfect balance between firmness so you can build endlessly, but also softness so you have the ultimate comfort!
On a scale of 1 to 10, our couch is approx. 7 . The Nugget was roughly a 9 out of 10, which can make it great for rigid builds, but it makes it less versatile in terms of comfort. And other play couch dupes are much less which is great for comfort but not optimal for building.
Want the whole family sitting on it at once? No problem. A few kids jump up and down on it? No sweat. The couch doesn't contain parts and pieces that can be broken, and it's made of durable, supportive, high-density foam, built to withstand all kinds of punishment.
All pieces combined, the Joey is a very light 31.8lbs. We wanted to make sure kids aren't playing with heavy things that they can get trapped under or hurt by. Instead you have a durable, light couch that's safe for kids of all ages.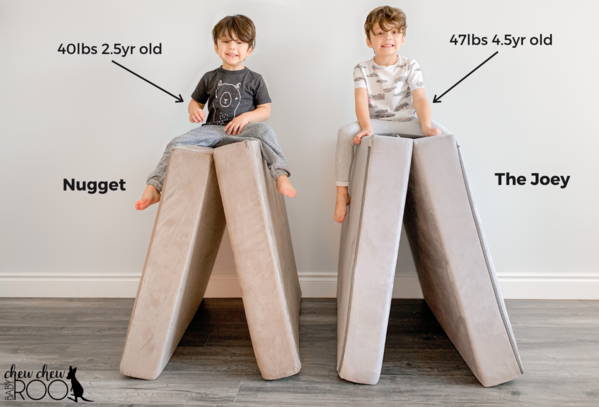 ---
Our Safety Assurance & Environmental Impact:

You can rest assured that the Joey is both safe for your home and the environment. It is created by a foam manufacturer that is both certified and listed on the CertiPUR-US®, which is the gold standard for foam safety. Since it's certified, you can safely know that your play couch is:
Free of formaldehyde, phthalates, mercury, lead, and other heavy metals.

Low VOCs* (Volatile Organic Compounds), so no weird smells and no lowered air quality.

Made without PBDEs, TDCPP or TCEPC flame retardants.

Made without ozone deleters and is environmentally Innovative.
*VOCs are generally human-made chemicals that emit as harmful gases from things like foam.
---
That being said, The Joey and its pillow packs are a wonderful companion to existing Nugget owners. Our waterproof and microsuede covers are nugget compatible for endless design combinations & builds!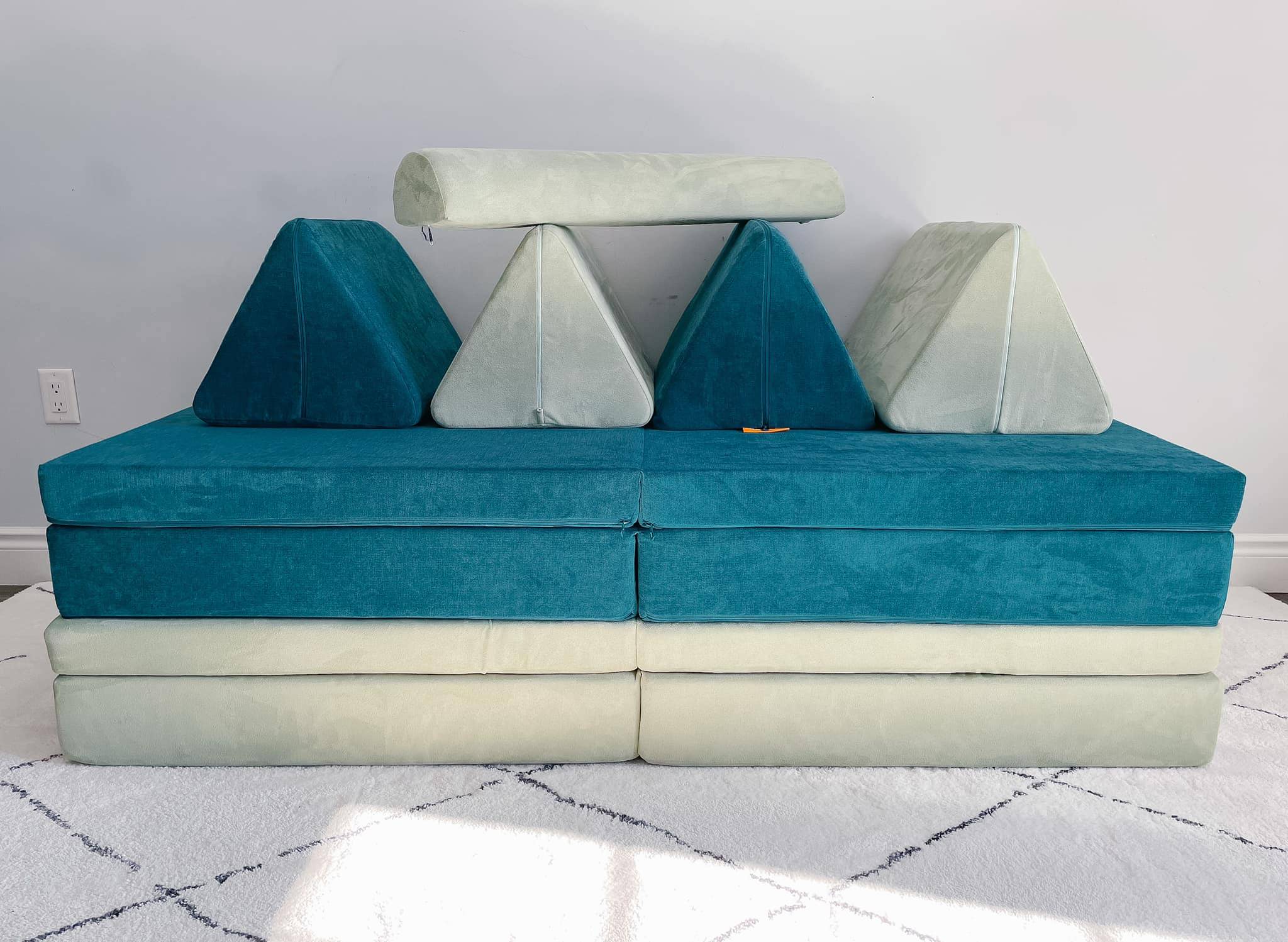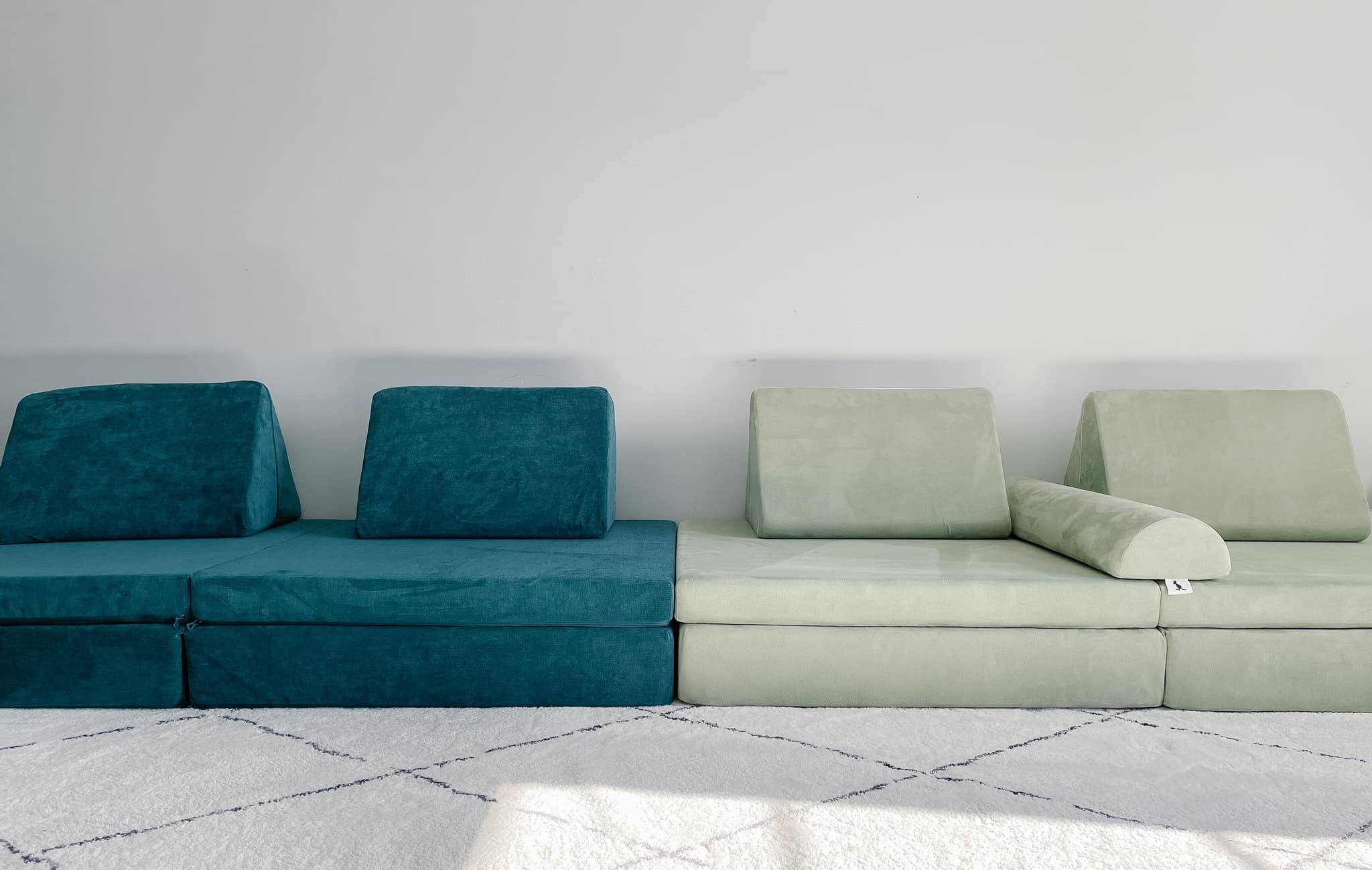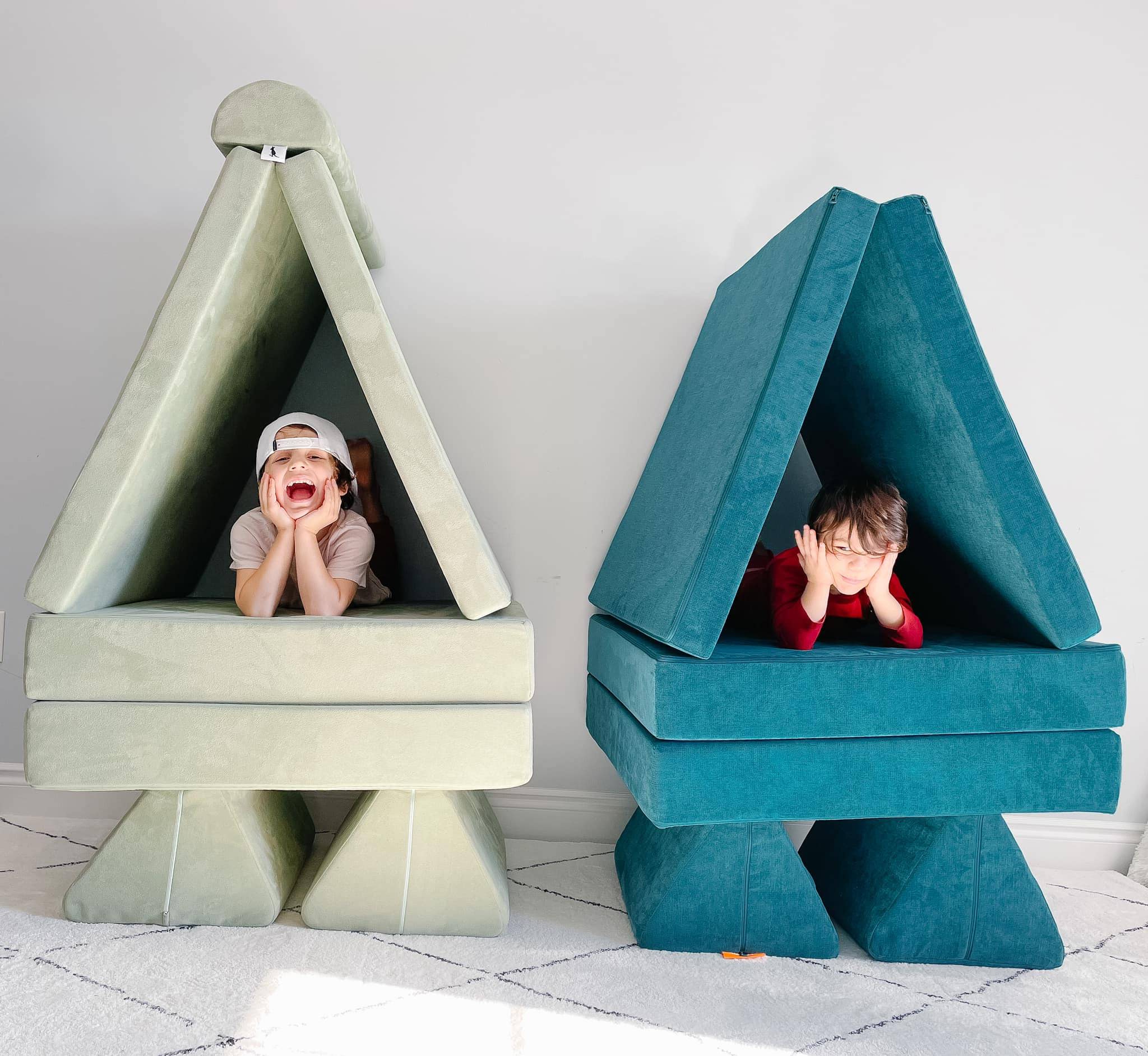 Ready to join other Roopers who are jumping for joy for the Joey?

Our pre-order sells every month, be sure you stay up to date with the latest on the Joey news by joining our waitlist.
---
OR join 10k+ other Roopers in our VIP Facebook Group with exclusive insights and giveaways for members!
---